INCREDIBLE KARATE HI-LITES
---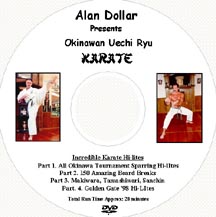 INCREDIBLE KARATE HI-LITES
Part I ALL OKINAWA TOURNAMENT SPARRING
The most impressive hits from the Okinawa Championship Tournament. Briskly paced action!
Part II AMAZING BOARD BREAKS
Amazing series of over 150 breaks of boards, poles, 2X4s, baseball bats, roof tiles, etc. broken in rapid succession with music!
Part III MAKIWARA, TAMISHIWARA, SANCHIN
Intensive use of this Okinawan training device and its applications to breaking
Sanchin kata with body testing from Kadena, Okinawa
Part IV GOLDEN GATE '98 Tournament HI-LITES
A montage of the best master level demonstrations and competition with music
Running time: 20 minutes
Price: $24.95
Receive this DVD FREE when you order the three DVD History and Training Set!
To order these informative DVDs:
Email:

---

Contact Info:

Copyright © 1996-2006 Cherokee Publishing
Revised: March 1, 2006